People in Ohio face cockroach problems all year round. However, the rainy summers act as a catalyst for these insects, causing them to breed and multiply at greater rates. If you need a professional cockroach exterminator in Columbus, you are on the right page. We are family-owned and have been in business for more than 15 years, providing free inspections and using eco-friendly exterminator equipment.
Spotting one roach in your home could be a sign that there are thousands more behind your walls. A thought like that can be frightening and may worry you, considering the fact that these insects only need ⅙ inch of space to squeeze into. A clean home is no enemy to cockroaches – they go everywhere and cause diseases such as the foodborne illness Salmonellosis.
Types Of Cockroaches In Ohio
There are five main types of cockroaches in Ohio:
German cockroaches: As the most common roach type of all, these peaky invaders are not as big as some other roach species, and will grow only to half an inch in length. However, they are one of the fastest reproducing roaches, and one of the foulest. A German cockroach infestation often starts around the plumbing fixtures, regardless of the type of home you are living in.
American cockroaches: Another common species and roaches that grow up to 2 inches in length, making them the scariest ones. They run very fast and scurry away when lights go on, which is why it's hard to spot them. Adults are red-brown with yellow markings and are common in restaurants or food preparation areas.
Oriental cockroaches: Despite being one of the less common roaches in Ohio, oriental cockroaches are very dark brown and fond of skewers, garbage, and damp basements.
Pennsylvania wood cockroaches: Also known as wood roaches, these species spend most of their time outside, and prefer forested areas. However, they may also come to homes through firewood or open windows and doors. These are harmless, but may cause damage to wooden structures.
Brown-banded cockroaches: This type got its name from the bands on their abdomens. Males have narrow bodies with amber coloring, while females are wider and dark brown colored. Unlike most species, these roaches jump when startled.
The German cockroach is the most common one and the most likely invader in a home infestation. As we said above, the best way to act against these insects and stop your home infestation is by calling our professional cockroach exterminators in Columbus.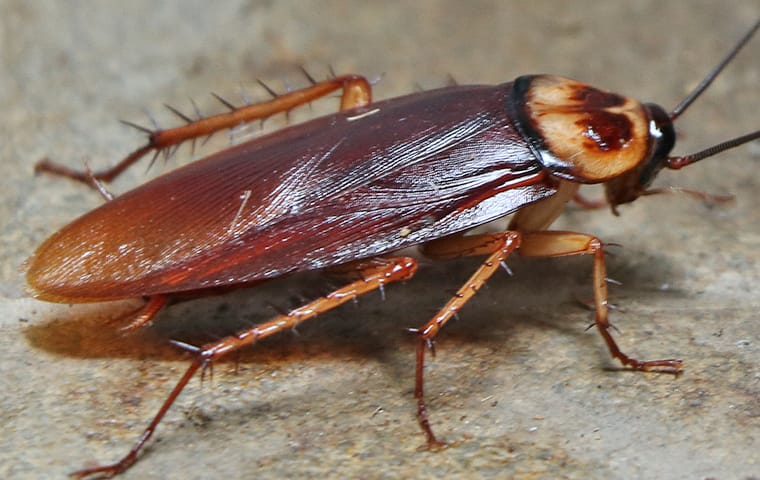 How To Get Rid Of Roaches In Ohio
The best way to get rid of roaches in Ohio is by hiring a professional pest control company and getting a full inspection of your roach issue. Your service technician will arrive and note all the conducive conditions and areas where cockroaches could harbor, providing recommendations for prevention and full control.
At Envirocare, we pride ourselves on being the go-to company for immediate cockroach control in Ohio. We have been helping our neighbors in Columbus and the surrounding areas of Ohio get rid of cockroaches for more than 15 years.
Step 1: Exterior Elimination
The initial phase is the exterior elimination of roaches. We know that most of the pests in Ohio come from the outside, especially during the spring and summer months. To guard against their entry, we will treat the exterior perimeter of your home with the latest non-repellent and cockroach-targeted solutions that are 100% effective in controlling cockroaches and are environmentally friendly. The ingredients we use are becoming biologically active only after they are eaten or absorbed by the cockroach, so you will be safe knowing that you, your kids, and your pets are 100% safe.
Step 2: Interior Elimination
Our goal is to treat your home as little as possible. Our Ohio cockroach exterminators will apply cockroach bait in cracks and crevices, as well as harborage areas where these insects might mingly and pass the insecticide from one to the next. By doing interior visits only once in a couple of months, we will execute a cockroach control plan to eliminate any existing cockroach populations and protect your family and home against new infestations.
Want a free quote for cockroach control in your Columbus home or office? Get in touch with us today!
Step 3: Prevention
Once we have done our job, we can talk about prevention and not seeing any signs of cockroaches ever again. There are some steps you can take to prevent these insects from infesting your home. Here are some tips we can give you:
Eliminate clutter whenever possible
Vacuum under heavy appliances, as well as the backs of your closets and cupboards
Put food away after eating it and clean all food spills immediately
Put your leftovers in sealed containers
Stop your leaks to deny any water to the roaches
Put trash in a can with a good lid, so roaches can't get to it
Empty your trash outside in an outdoor trashcan with a lid on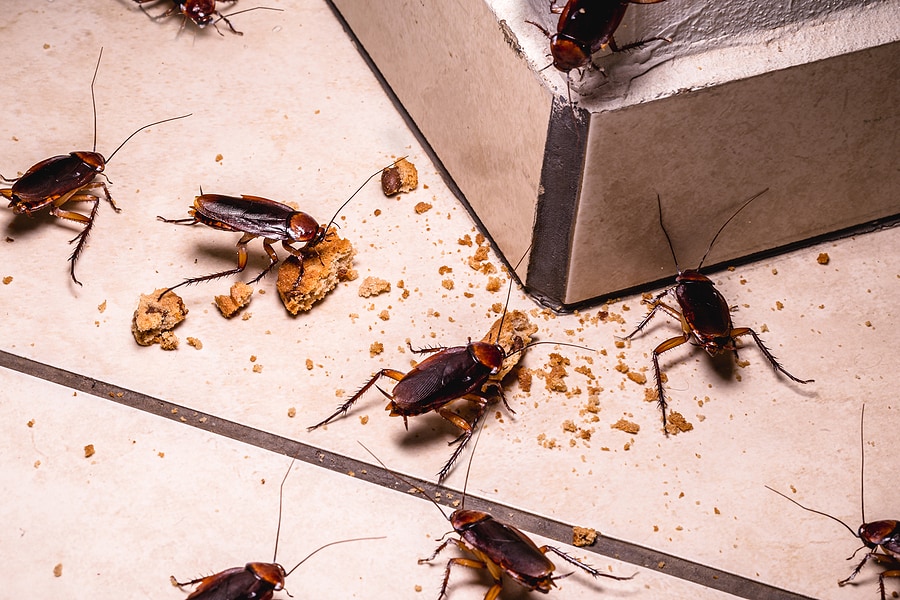 Have Roaches And Need Professional Help? The #1 Roach Extermination In Columbus, OH
Envirocare controls and eliminates roaches that are invading homes and businesses in Columbus, Ohio and the surrounding areas. If you have seen a cockroach scurrying past you in your home or office, it is a surefire sign that more of them are lurking behind the walls.
Call our experienced exterminators today to perform a thorough inspection and get your home rid of cockroaches using eco-friendly and advanced solutions. will make sure to inspect your entire property – our
Envirocare is a local pest control company that is recognized by many people and top-rated in our local community. We are seen as an affordable family-0owned cockroach exterminator that has been helping Columbus residents get rid of roach infestations and live in safe homes.
Our Cockroach Exterminators Serve The Following Areas In Ohio
We proudly serve the following areas in and near Columbus, OH:
Upper Arlington
Dublin
Columbus
Powell
Grandview
Bexley
New Albany
Westerville
Gahanna
Olentangy
German Village
Short north
OSU Campus
Clintonville
Worthington
Can't find the name of your town on the list above? Feel free to contact us today and we'll be happy to arrive at your location:
Let us know how we can help! Contact our team today for an inspection appointment.